Meet the experienced and friendly dentists and staff who make Crowder Family Dentistry the leading provider of oral hygiene and personalized dental services in Lenexa.
---
Dr. Ric Crowder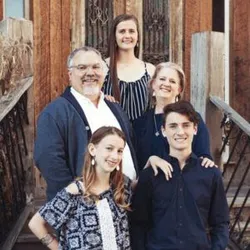 Dr. Ric Crowder would like to welcome you to a fantastic dental experience. Dr. Crowder and his team combine advanced dentistry with a gentle, friendly style that will make you and your family more comfortable than you ever thought possible.
A 3rd generation dentist, Dr. Crowder graduated from the University of Missouri, Kansas City – School of Dentistry, and he continues to attend post-doctoral studies in advanced dentistry each year. So whether you need advanced treatment or routine cleaning, you can be assured that all your dentistry will be performed with the utmost precision and care.
Best of all, Dr. Crowder takes the time to get to know every patient one-on-one. Your needs and concerns are our top priority, helping us provide you with state-of-the-art dentistry in a caring and professional way.
Dr. Crowder is married to Susan – a Board Certified veterinary dentist for animals. They have 3 children who can often be seen helping out at the office. Kayla, Dr, Crowder's oldest daughter is planning on attending UMKC dental school, just like her father, grandfather, and great grandfather. It's all in the family, as they say. Dr. Crowder is a member of the Academy of General Dentistry, the American Dental Association, the Kansas Dental Association, and the Christian Medical/Dental Association. Dr. Crowder has served as the President of the Kansas Academy of General Dentistry as well as the Chair of the Dental Practice Council for the National Academy of General Dentistry.
Dr. Crowder is proud to have earned his Fellowship in the Academy of General Dentistry in 2017. The Fellowship Award is presented to dentists looking to provide the highest quality of dental care by remaining current in their profession. In order to receive this award, Dr. Crowder completed 500 hours of continuing dental education, passed a comprehensive written exam, and fulfilled three years of continuing membership with the AGD. As a recipient of this award, Dr. Crowder has joined an elite group of about 2276 members of the dental community who understand that great smiles and good oral health for their patients are the results of going above and beyond basic requirements. The Fellowship Award symbolizes excellence in the dental profession and a commitment to providing exceptional patient care.
When he is not in the office, Dr. Crowder loves to spend time with his kids, read and run. He and Susan are also very involved in their church and enjoy mission work both locally and abroad.